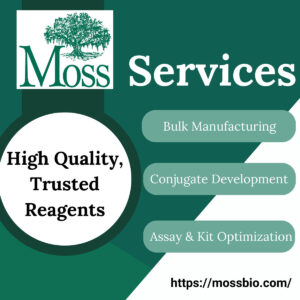 Unlock Scientific Excellence with MOSS Inc.
At MOSS, we are your trusted partner in the world of scientific discovery. Our core services of Bulk #Manufacturing, #Conjugate Development, and #Assay & Kit Optimization are designed to empower your research and diagnostic endeavors.
Bulk Manufacturing: With decades of experience, we excel in producing high-quality immunoassay reagents at scale, ensuring consistency, and reliability.
Conjugate Development: Our expert team tailors conjugates to your exact specifications, prioritizing precision and customization.
Assay & Kit Optimization: Let us fine-tune your assays and kits for peak performance, delivering results you can trust.
#Science #Research #Diagnostics #Innovation #MOSS